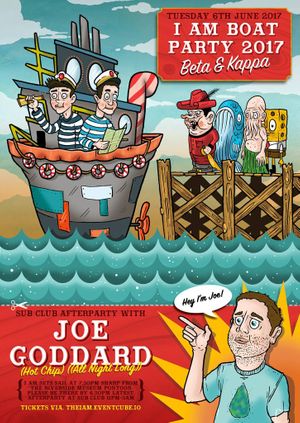 I AM - Boat Party & Afterparty 2017
6th Jun 2017 7pm - 3am
Add to Calendar
Event Details
ARRRRR!!! Land lubbers, Submarine lovers and scurvy-ridden hornswagglin' clubbers.
Roll up! Roll up! The sixth annual i AM Boat Party is announced. There's been a mutiny and Beta & Kappa are taking control of the decks on board, and we've enlisted the help of one of our favourite artists to take care of duties to take control of the SS Sub Club, and leave the old beast in the safe hands of Captain JOE GODDARD. The Hot Chip & Two Bears tycoon, has had a string of fantastic releases over the years both under his own name and in various projects and is a menace in one of his favourite vessels.
Also! ARRRR!! There's booty in that river and we're not returning 'til one of you finds it. There is an old old story that says two old old wooden casks were thrown to the sea by a cruel pirate before his ship sank. The tale goes they surfaced and were stolen by the Clyde Cruises fleet you knew not how to open them and were lost again onboard.
If you can find either trove and bring it to your captain, you shall be rewarded mightily well... and if not, then Davey Jones locker will be the fate for every last one of you ARRRRRRHAHAHHAHHHAAAAAAAAA!!!
---------------------------------------------------
∞ ∞ TIMINGS ∞ ∞
19.30-23.30 - BOAT PARTY w/ Beta & Kappa
23.00-03.00 - SUB CLUB w/ Joe Goddard (All Night Long)
Boat departs at 19.30 SHARP. Please arrive at the RIVERSIDE MUSEUM Dock for 19.00 LATEST. Tickets include busses from the boat to Sub Club and entry for this as well.
---------------------------------------------------
∞ ∞ LOCATIONS ∞ ∞
RIVERSIDE MUSEUM DOCK: 100 Pointhouse Rd, Glasgow G3 8RS
SUB CLUB: 22 Jamaica St, Glasgow G1 4QD
---------------------------------------------------
∞ ∞ TICKETS ∞ ∞
LINK: http://theiam.eventcube.io
1st Release | £22+bf
2nd Release | £25+bf
If you can't make the boat you can still join the party at the club for £7